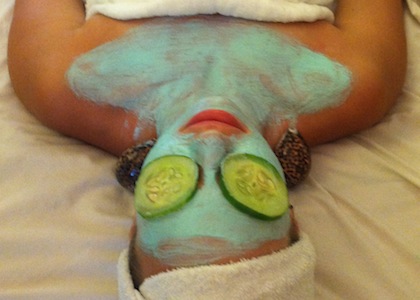 Facials
Each facial begins with a consultation of your skin's special needs, followed by cleansing, toning, exfoliation, steam, extractions, massage, mask and re-hydration. Our experienced and knowledgeable aestheticians will be happy to make recommendations on the appropriate facial skincare products best suited for you. For noticeable improvements and lasting results, we encourage regular and professional home care products.
European Deep Cleansing Facial
(allow 50 minutes) $65
A deep pore cleansing designed to purify and hydrate congested skin, includes a relaxing face, neck and decollete massage.
Photo-Rejuvenation (L.E.D.) Facial (Light Emitting Diodes) (allow 60 minutes) $85
This is truly 21st century technology! A soothing red light reaches beneath the skin, this combination facial/light therapy can help aging or sun damaged skin by stimulating collagen production and inner skin firmness.
Anti-Aging Facial
(allow 50 minutes) $70
Results are seen as this highly concentrated Lactic Acid or enzyme peel cleanses away dead skin cell build-up, and improves the quality and appearance of dull dry skin.
Acne Facial
(allow 50 minutes) $65
Soothe and calm acne while helping skin to heal and repair. Includes helpful instructions on skincare.
Add On Eye Treatment ($10 each)
Collagen boosting serum with a natural retinol alternative. Containing chicory root and tara tree to replenish skin and smooth crow's feet.
Salt Glow Body Polish  (allow 45 minutes) $75
Sea salt exfoliation with essential oils, steam towels and a gentle foot bath follow your scrub with a hydrating & nourishing Eminence Hungarian lotion.  (Choose from blueberry, coconut, stonecrop)
Blueberry Layered Peel (allow 30 minutes) $60
A Results oriented layered peel- detoxifies and resurfaces your cells .  Enzymes and peptides with arctic berry renew your skin. Citrus & Kale potent C & E serum reduce free radical damage.
Products
Eminence Organic Skincare
Jane Iredale Mineral Make-up & Glo-Minerals
Rosacea Facial
(allow 50 minutes) $65
This is the perfect facial for delicate skin or skin that is easily irritated by the environment, causing dilated capillaries and redness in the face. Our trained aestheticians will be happy to make recommendations on the appropriate skincare products best suited for the skin condition.
Teen Facial or Express Facial
(allow 30 minutes) $45
Skin analysis, deep pore cleaning, facial massage, exfoliating masque and moisturizer with sunscreen.
Hydrating Facial
(allow 80 minutes) $120
Complete skin analysis with massage to the face, neck and shoulders with ozonated steam and hot towels. The use of a natural skin peel that creates a noticeable, smoother, softer, more youthful skin surface. Deep hydration with exclusive skin care moisturizers for a radiant, healthy skin. Prepare to be pampered.
Organic Aromatherapy Facial
(allow 50 minutes) $65
A destressing, aromatic experience, this treatment uses the purest natural organic essential oils and plant extracts. Products are chosen to match your skin's needs and are available for purchase.
Purifying Back Skin Treatment
(allow 45 minutes) $60
A facial for the hard-to-reach back, a gently cleansing and exfoliation with hot steamy towels. Designed to eliminate impurities while nourishing your skin.
Rose Pedal Foot Soak (Allow 30 minutes) $60
Soothe your soles with this one of a kind foot soak and custom sea salt scrub.  Exfoliate away dead skin and soften your soles , complete with hot towels and hydrating Hungarian treatment lotion.