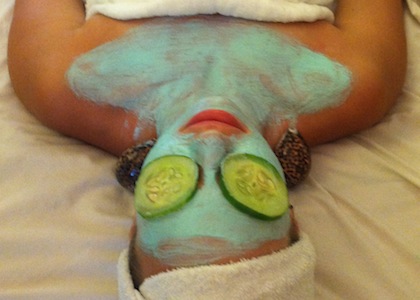 Facials
Each facial begins with a consultation of your skin's special needs, followed by cleansing, toning, exfoliation, steam, extractions, massage, mask and re-hydration. Our experienced and knowledgeable aestheticians will be happy to make recommendations on the appropriate facial skincare products best suited for you. For noticeable improvements and lasting results, we encourage regular and professional home care products.
CLASSIC ORGANIC AROMATHERAPY FACIAL: (Allow 50 min) $70
Botanical peptides and deep pore cleansing enzymes rejuvenate your skins mantle , steamed towels and a scalp massage melt away stress to feel anew again!
MANGOSTEEN GENTLE RESURFACING FACIAL: (Allow 60 min) $80
Designed for all skin types, this lactic acid complex from antioxidant-rich mangosteen exfoliates your skin gently, revealing a smoother, healthier complexion!
BRIGHTENING SKIN FACIAL: (Allow 50 min) $75
A deep pore cleansing facial that targets hyper-pigmentation and brown spots with brightening ingredients. A natural hydroquinone alternative.
HYDRATING FACIAL: (Allow 80 minutes) $120
Complete skin analysis with massage to the face, neck and shoulders with ozonated steam and hot towels. The use of a natural skin peel that creates a noticeable, smoother, softer, more youthful skin surface. Deep hydration with exclusive skin care moisturizers for a radiant, healthy skin. Prepare to be pampered!
VITAMIN C & E ANTI-AGING FACIAL: (Allow 50 min) $80
Antioxidant rich enzymes and lactic acid smooth your complexion for a natural glow again. Enjoy a relaxing neck, shoulder and head massage to complete your experience.
SENSITIVE SKIN FACIAL: (Allow 50 minutes) $65
This is the perfect facial for delicate skin or skin that is easily irritated or may have dilated capillaries. Our trained aestheticians will be happy to make recommendations on the appropriate skincare products best suited for this skin condition.
ACNE FACIAL: (Allow 50 minutes) $65
Soothe and calm acne while helping skin to heal and repair. Includes helpful instructions on skincare.
PHOTO-REJUVENATION FACIAL: (Allow 60 minutes) $85
This is truly 21st century technology! A soothing red light reaches beneath the skin, this combination facial/light therapy can help aging or sun damaged skin by stimulating collagen production and inner skin firmness.
ULTRASONIC FACIAL: (Allow 80 min) $90
The Ultrasonic machine uses low-frequency vibrations to gently remove surface debris and dead skin cells. Achieve clear, radiant, more youthful skin!
EXPRESS LUNCHTIME FACIAL: (Allow 30 min) $50
A thorough exfoliation and or peel to clarify, hydrate and refine your pores. Potent C and E serum reduce free radicals. Great for those with time limitations!
SALT GLOW BODY POLISH: (Allow 45 minutes) $75
Sea salt exfoliation with essential oils, steam towels and a gentle foot bath with mineral salts and a hydrating and nourishing Eminence organic lotion.
EXFOLIATING FOOT SOAK: (Allow 30 minutes) $60
Soothe your soles with this one of a kind foot soak and custom sea salt mineral scrub. Exfoliate away dead skin and soften your soles, complete with hot towels and hydrating Hungarian treatment lotion.
ADD ON EYE TREATMENT: ($10 each)
Collagen boosting serum with a natural retinol alternative. Containing chicory root and tara tree to replenish skin and smooth crow's feet
Brow and lash tint