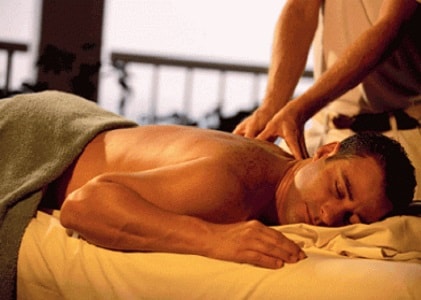 Massage Therapy
Allow your body to surrender to the benefits of therapeutic massage by on of our licensed certified massage therapists. Our female and male staff are trained in a multitude of techniques, designed to relax and rejuvenate the body.
Spend an hour or spend a day relaxing at our quaint day spa. Walk-ins are welcome, or call to make an appointment. We are located minutes from downtown Hendersonville, NC on Kanuga Road. Treat your body to a massage from a professional massage therapist in Hendersonville, NC.
Please Note: For appointments cancelled or rescheduled within 24 hours of the appointment time, we charge 50% of the service total. "No-show" appointments will be charged 100%.
SWEDISH MASSAGE: (60 min) $80 / (90 min) $120
A classical form of full body massage that relaxes and de-stresses the body, improves muscle tone and stimulates circulation.
HOT STONE MASSAGE: (60 min) $85
Experience the warm sensation of smooth basalt stones and therapeutic touch. Heat from the stones deeply penetrate the muscles and eases you into a complete state of relaxation.
NEUROMUSCULAR MASSAGE: (60 min) $100
A highly specific results-oriented method of working with chronic stress and pain. It has been shown to be of therapeutic value for persistent soft tissue distress, injury, fibromyalgia and muscular tension.
AROMATHERAPY MASSAGE: (45 min) $70
With the use of organic essential oils, this anti-stress massage induces deep relaxation of the nervous system, eases tired tense muscles and helps establish a healthy equilibrium of the mind, body and spirit.
PRENATAL MASSAGE: (60 min) $90 / (90 min) $135
A full body massage with pillows used for support. Our therapists are trained in pregnancy massage. Check with your OB physician if any questions.
DEEP TISSUE MASSAGE: (60 min) $90 / (90 min) $135
Enjoy the benefits of detoxification with steam. You are cocooned in a warm steam tent as you receive a neck and head massage… enjoy!
COUPLES MASSAGE:  Swedish (60 min) $175 / (90 min) $260
Deep Tissue (60 min) $200 / (90 min) $290
We reserve our dual room especially for you and your friend, spouse or family member.  Perfect for celebrating an anniversary or entertaining out-of-town friends, or just an excuse to be together.
MASSAGE SAMPLER – TRY ALL FOUR: (75 min) $130
Can't decide? Why not try them all? This choreographed massage includes a taste of Swedish, deep tissue, aromatherapy and hot stones. You may need a limo service after this one!
NECK, BACK & SHOULDER MASSAGE: (30 min) $50
Swedish massage concentrating on the shoulders, back and neck. Relieves tension in these specific regions.
MASSAGE CUPPING THERAPY: (60 min) $80
A full body massage with application of cupping creates suction & negative pressure. Helps to drain excess fluid, loosen adhesion & lift connective tissue. Feels Great!
ADD-ON ENHANCEMENTS
Cranial Sacral                                   $30
Foot Massage Pressure Points      $30
Electric Massager (Jeanie Rub)      $25
Stretching                                         $25
Scalp Massage                                 $20
Aromatherapy                                 $10