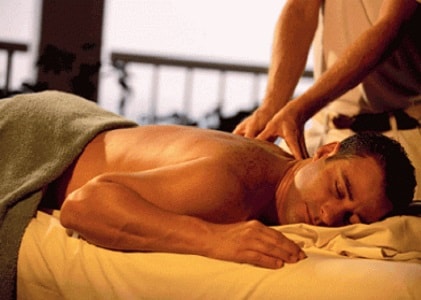 Massage Therapy
Allow your body to surrender to the benefits of therapeutic massage by on of our licensed certified massage therapists. Our female and male staff are trained in a multitude of techniques, designed to relax and rejuvenate the body.
Swedish Massage
(50 minutes) $55 (60 minutes) $70
A classical form of full body massage that relaxes and de-stresses the body, improves muscle tone and stimulates circulation.
Neuromuscular Massage
(allow 60 minutes) $90.
A highly specific results-oriented method of working with chronic stress and pain. It has been shown to be of therapeutic value for persistent soft tissue distress, injury, fibromyalgia and muscular tension.
Deep Tissue Massage
(allow 60 minutes) $85
Restores the structural and functional integrity of the body by reducing pain and energy loss, improving posture, muscle tone and stimulates circulation.
Thai Massage
(allow 90 minutes) $130
A unique client/therapist interacting massage that is done on a large supporting pad on the floor with the patient fully clothed. The therapist applies specific pressure on the body, a variety of stretching movements are used to relieve tension, increase flexibility and lengthening of muscle and tendons.
Aromatherapy Massage
(allow 50 minutes) $70
With the use of organic essential oils, this anti-stress massage induces deep relaxation of the nervous system, eases tired tense muscles and helps establish a healthy equilibrium of the mind, body and spirit.
Salt Glow Body Polish  (allow 45 minutes) $75
Sea salt exfoliation with essential oils, steam towels and a gentle foot bath follow your scrub with a hydrating & nourishing Eminence Hungarian lotion.  (Choose from blueberry, coconut, stonecrop)
Couples Massage
$150 (allow 50 minutes)  $190 Deep Tissue or Hot Stone (allow 1 hour)     We reserve our dual room especially for you and your friend, spouse or family member.  Perfect for celebrating an anniversary or entertaining out-of-town friends, or just an excuse to be together.
Hot Stone Massage
(allow 60 minutes) $75
Experience the warm sensation of smooth basalt stones and therapeutic touch. Heat from the stones deeply penetrate the muscles and eases you into a complete state of relaxation.
Maassage Sampler
(allow 80 minutes) $120
Can't decide? Why not try them all? This choreographed massage includes a taste of Swedish, deep tissue, aromatherapy and hot stones. You may need a limo service after this one!
Neck, Back and Shoulder Massage
(allow 30 minutes) $45
Swedish massage concentrating on the shoulders, back and neck. Relieves tension in these specific regions.
Steam Treatment with Neck and Head Massage
(allow 30 minutes) $50
Enjoy the benefiits of detoxification with steam. You are cocooned in a warm steam tent as you receive a neck and head massage… enjoy!
Massage Cupping Therapy
(allow 60 minutes) $70
A full body massage with application of cupping creates suction & negative pressure. Helps to drain excess fluid, loosen adhesion & lift connective tissue. Feels Great!