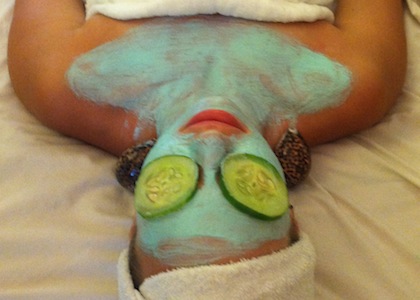 Facials
We use award-winning products by Eminence Organic Skin Care that contain results-driven, botanical actives.
After a consultation, your aesthetician will customize the perfect facial for your unique skin concerns.
For noticeable improvements and lasting results, we encourage regular and professional home care products.
Prepare to be pampered!
Please Note: For appointments cancelled or rescheduled within 24 hours of the appointment time, we charge 50% of the service total. "No-show" appointments will be charged 100%.
THE FOUNTAIN OF YOUTH EUROPEAN STYLE EMINENCE ORGANIC FACIAL:
(60 min) $99
Facial includes a skin analysis with a relaxing massage to the face, neck, and shoulders with ozonated steam and hot towels.
CHOOSE FROM:
HYDRATING
The use of a natural skin peel to create a noticeably smoother, softer, more youthful skin surface. Deep hydration with exclusive skin care moisturizers and serums for radiant, healthy skin.VITAMIN C BRIGHTENING
Antioxidant rich enzymes and lactic acid smooth your complexion for a natural glow again.SENSITIVE SKIN
The perfect facial for delicate skin or skin that is easily irritated or may have dilated capillaries.
ULTRASONIC
Uses low-frequency vibrations to gently remove surface debris and dead skin cells. Achieve clear, radiant, more youthful skin!
PURIFYING DEEP PORE CLEANSE
Reduce congestion with a custom extraction session and refine skin with specific treatments.
EMINENCE SIGNATURE ORGANIC STONE CROP TREATMENT:
(60 min) $125
Treat the 3 H's – Hydrate, Heal & Hyperpigmentation. Unwind with a relaxing scalp and foot massage.
ANTI-AGING FACIAL TRIO: (90 minutes) $150
This service combines two 21st century technologies; micro-current and LED Light Therapy followed by a mild, skin-brightening peel! Potent, high-antioxidant serums facilitate cellular regeneration.
DERMAPLANE FACIAL: (75 minutes) $150
A gentle shaving of peach fuzz and dead skin cells; a microdermabrasion alternative to achieve a smooth radiant glow. Includes a full facial followed by botanical hydrating serums.
EXPRESS LUNCHTIME FACIAL OR DERMAPLANE TREATMENT: (30 min) $60
Choose between a facial tailored to your skin type or a dermaplaning treatment. Great for those with time limitations!
SALT GLOW BODY POLISH: (60 minutes) $99
Sea salt exfoliation with essential oils, steam towels and a gentle foot bath with mineral salts and a hydrating and nourishing Eminence organic lotion.
EXFOLIATING FOOT SOAK: (30 minutes) $60
Soothe your soles with this one-of-a-kind foot soak and custom sea salt mineral scrub. Exfoliate away dead skin and soften your soles, complete with hot towels and hydrating Hungarian treatment lotion.
ADD-ON ENHANCEMENTS
Professional Power Peel                                              $25
Dermaplane (Removes Peach Fuzz & Dead Skin)    $45
Eye Treatment                                                               $15
Exfoliating Back Treatment                                         $50
LED Microcurrent (Firming)                                         $30
Brow & Lash Tint                                                           $30